Atherton Gardens Social Housing and Hub
Atherton Gardens Social Housing and Hub
Located on Brunswick Street Fitzroy within the Atherton Gardens Reserve, are 152 Social Housing apartments, a kindergarten, childcare and community hub. The energy efficient and spacious apartments are occupied by a mix of key workers, affordable and social housing communities. Many apartments have universal access, and many are occupied by families.
Built over a former carpark, the building fills a gap in the streetscape and bridges between the Commission Tower blocks and their 3-4 storey neighbours. The ground floor facilities including the kindergarten, childcare centre, community meeting rooms and training facilities, invite the broader Fitzroy community into the building.
The building's design stems from close site analysis and draws on the Victorian pattern of highly formal and solid front facades, that contrast with the adhoc informality of out-buildings (or contemporary extensions) to the rear. The building is solid, formal and closed to the south and west, and open, light, airy and informal to the north and east - addressing the open space of the reserve. The 'woven' brick facade integrates the building into the surrounding context where patterned brickwork buildings abound, while also metaphorically evoking protection, warmth and the dignity good housing provides.
With McCabe Architects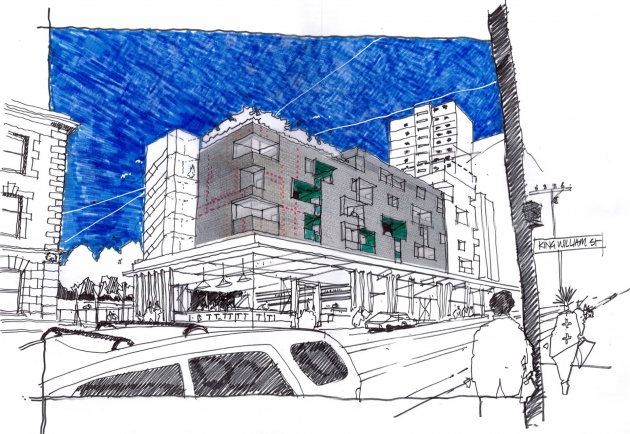 Awards
Dulux Colour Award, 2013 – Grand Prix Winner
Dulux Colour Award, 2013 – Multi Residential Exterior Category Winner
Think Brick, 2012 – Horbury Hunt Commercial Highly Commended
Publication
Contributors
Architects: McCabe Architects and Bird de la Coeur
Client: DHS Property and Assets Group
Structure: Robert Bird Group
Services consultants: JBA Consulting Engineers
Photographer: John Gollings / Mark Wilson
Landscape: Formium
Related Projects
SHARE